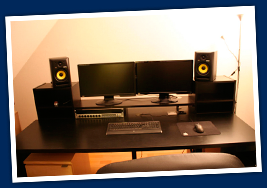 So, I had a problem. I wanted to build a desk suitable for producing music. The problem was, I had some requirements this desk should meet so I soon knew that I will be hard to find a pre-built desk that fits my needs.
When I started digging a bit deeper, I realized that it must be alot easyer to combine some IKEA furniture rather than building and painting the desk all from zero. And probably it would finally look better than something I painted on my own.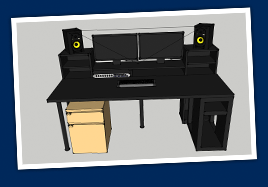 First I started to plan the desk using Google Sketchup. This was very easy, because all the important measures were available on the IKEA online shop. Many models are also available for download at the Google 3D Warehouse. You can find the 3D model here to download, but be aware that this is only a sketch, it's possible that some measures don't meet the real ones.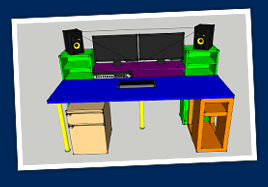 This is to show the used IKEA furniture. Everything that is colored, is from IKEA.
| | Name | Art. Nr. | Color | Price per Unit |
| --- | --- | --- | --- | --- |
| 1x | VIKA AMON | 501.214.53 | blue | $ 45.00 |
| 1x | LINNMON ** | 802.513.58 | blue | $ 45.00 |
| 2x | BILLY | 200.857.05 | green | $ 49.99 |
| 2x | EBKY JÄRPEN | 200.943.47 | purple | $ 14.99 |
| 1x | VIKA ANNEFORS | 401.624.96 | orange | $ 40.00 |
| 3x | VIKA CURRY | 101.052.90 | yellow | $ 3.50 |
| 3x | VIKA ADILS * | 702.179.73 | yellow | $ 3.50 |
| | Total | | | $ 224.46 |
* It looks like the CURRY is not available anymore. Instead you could go with the ADILS (702.179.73) which is a bit slimmer than the CURRY but price, length and mounting plate seem to be the same. Thanks to Ben for the hint!
** The VIKA ANNEFORS also seems to bi discontinued. The LINNMON table top seems to have the same measures and color.
Interestingly IKEA sells some of it's parts with very strange measures. Can anybody tell me why the EBKY JÄRPEN is 119cm long? This causes that the BILLY - EBKY JÄRPEN - BILLY part is only 199cm wide whereas the AMON table top is 200cm. But if you don't know, you will probably not recognise.
Another problem is, that some of these products are only available in black-brown and others in black. If you watch closely you can see a little difference, but once again, only if you watch close enough.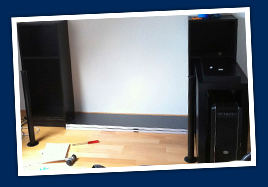 First of all I started with building up the BILLYs and the ANNEFORS. Then I layed all out on my floor to see if it all works as I had planned. It did, so I mounted the CURRY legs to the AMON to have a working space.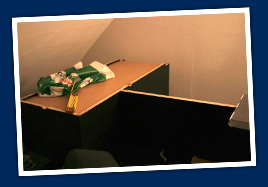 On top of that I layed the BILLYs and mounted the JÄRPEN. Here You should be very exact so that the JÄRPEN will be exactly on the same height as the AMON to have a continuous working space.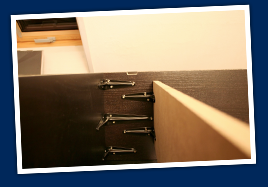 Another shot where you can see the angles that i used to attach the lower JÄRPEN to the BILLYs.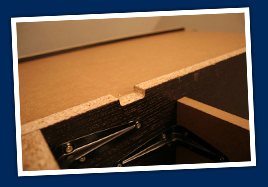 I also added some space to get the cables through, even if the desk is put next to a wall.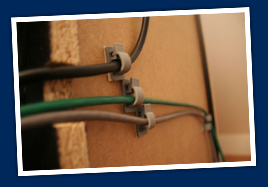 An this is what it looks like with cables. Don't ask me where I got these cable clips from, I don't know how you cal dem and I've got them from a local dealer.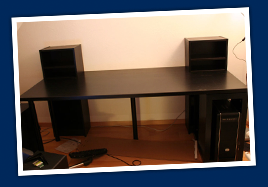 So, short check if all turn out as expected. Yep!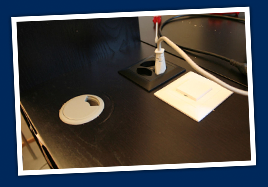 For cable management and the power plugs on top, I thrilled three holes into the JÄRPEN. Meanwhile I replaced the white switch with a black one.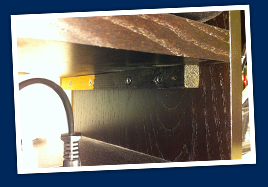 A lot of you guys asked me how i mounted the upper JÄRPEN. It's that simple: Screwed a wooden profile to the BILLYs and put some wood dowel pins in the profile so the JÄRPEN sits firm onto it.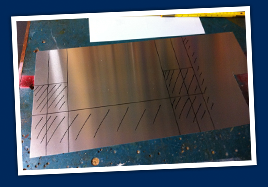 I also have a Samson monitor controller to be able to have multiple inputs and set the volume of the studio monitors. This should also be integrated nicely. So I took a piece of plain aluminium and marked it, ...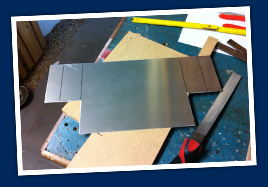 ... bendt it...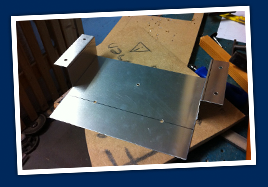 ... and added some holes for mounting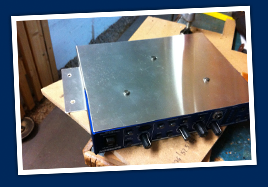 The mixer itself is screwed onto it with 3 screws that are originally supposed to be used for a frame that allows you to mount two of these in a 19-inch-rack.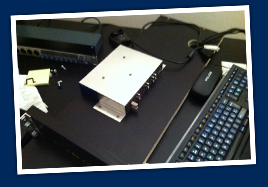 The whole construct is then mounted below the upper JÄRPEN.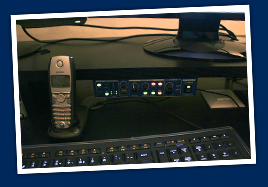 And this is what it looks like mounted.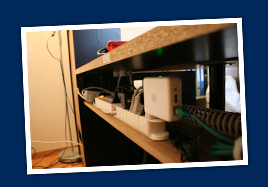 You know this for sure. As soon as you have some devices including a computer to wire, you have a huge mess and if this is at the floor, you automatically also have the dust. So I was looking for a good solution to order them.
First of all I mounted a wood board below the JÄRPEN where the cable canal and the plug boards. In the JÄRPEN I mounted some grommets to get the cables down there. And then I used some fancy cable canals to keep the cables where they should be.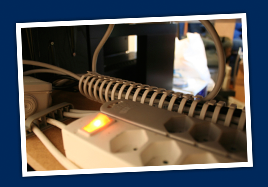 I also wanted to have a small 19-inch rack in it. The fact that I needed to raise the Screens about 10cm from the desk made it quite easy to decide, because this is is pretty much 2 rack units plus the thickness of the wood. So I bought a rack rail, some screws and cage nuts and built the rack. It currently gives space for my audio interface and a rack blade.
If you have any questions, don't hesidate to contact me.
You can reach me via mail: ikea@michaelburri.ch